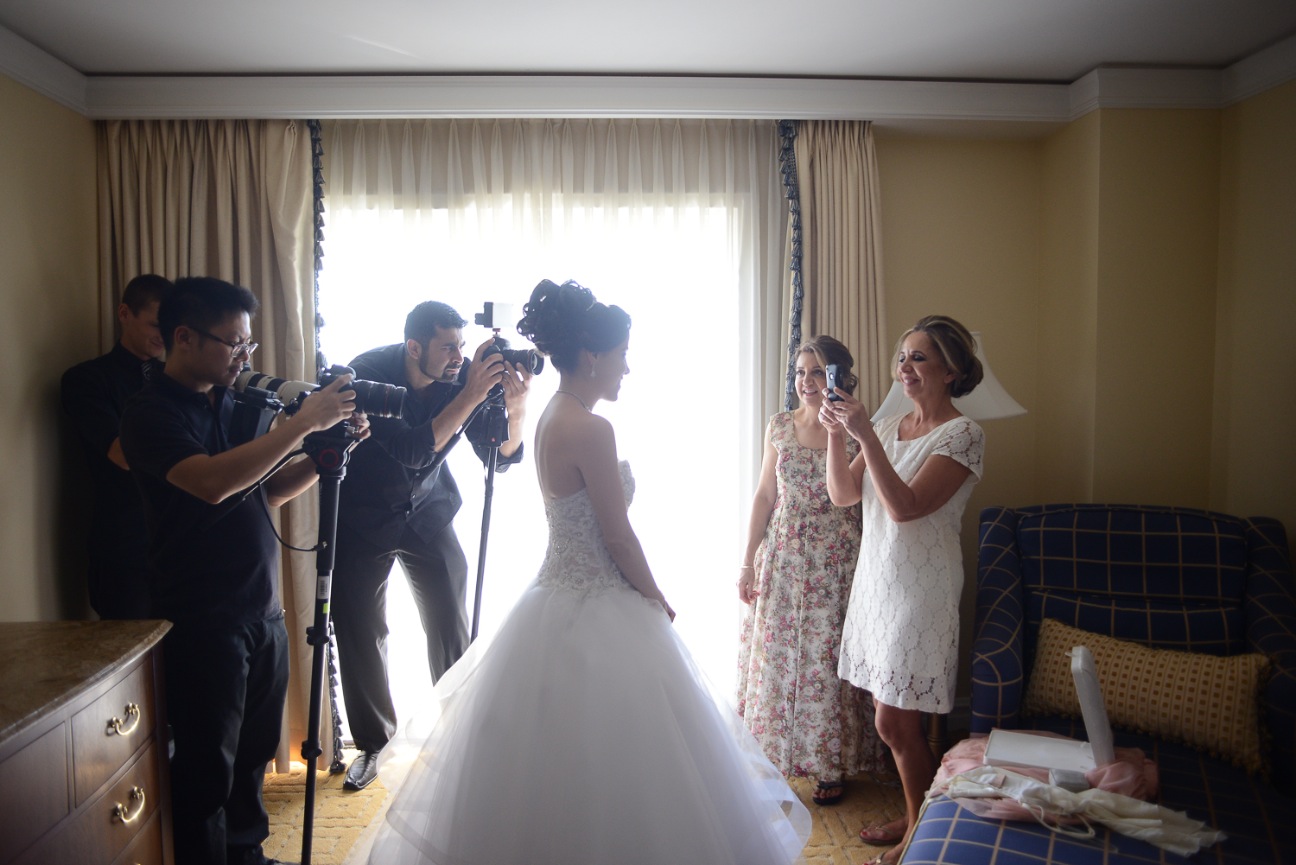 I have to say that when I look back on my Wedding photography years 16 and counting I realize now after all these years that it took me years to figure out how to shoot a great wedding or shoot a wedding great. It also took me years to figure out how to work seemlessly with the other teams of people that it takes to make a wedding amazing and have everyone happy with all their results. As far as the photography and the videography well that is a magic pair of teams that have to know how to work with each other, otherwise it is a major disaster. I always try to inform my Bride that it really is best to hire both teams that have a history of working together OR from the same company. I now find that to be actually imperative to have the best possible coverage for the couple which is our major concern. But sometimes the teams are hired independently and that is where problems can arise.
We go into a wedding to take award winning images and that is the lazer sharp focus of our team. We also go into the wedding to get the most romantic film footage and creative story telling that can be had. We do this at Cheriefoto together with a photography team and a film team that rivals the best in the country I am so pleased to say. We also work seemlessly together!!
On the rare occasion that one of our couples chooses to go with another video team that is not a problem either. I introduce myself always and discuss the ins and outs of both of us getting the best footage and how it might work for everyones' benefit. It usually works out. I had the total pleasure of shooting an amazing wedding last night and I have to say it is in the top 5 of the most amazing couples, wedding ideas and just shear fun weddings. I was honored to be apart of 2 families coming to be one and shooting imagery that will forever be part of the family history and archives. I had the best time dancing at 2am in the morning after doing a 12 hour wedding. Yes it is true I did it!!
If you get to this point in my post which I always wonder if anyone reads my blog posts you will be saying ok already what is she talking about. Well here we go. It is not in my nature to complain about vendors BUT I know that video teams and photography teams clash at times. I have been yelled at by videographers and last night in my long history I have never missed so many precious shots due to a 4 man team of videographers that literally walked in front of me constantly ruining picture after picture that i took time and effort to set up. They totally shot all my set ups and got in my way to the point of at the ceremony after asking one videographer to get off the stage where the Jewish family stood under the sacred Chuppah to be married this video person stood on the stage throughout the entire wedding. Whar really!!! It was as if they wanted to get what they wanted and no one was going to get in their way not even the Bride and Groom. I asked 3 times for them to get off the stage but they totally disrespected not onlly me but also the family. There will never be a photo of this sacred time with both families standing under the night sky chanting 5000 year old songs and a couple being married with both sides of the family on either side of the stage. There will forever by a stupid guy in blue jeans in front of the grandfather in a wheel chair in all these precious images. The other video team member when the moment happened when they were announced husband and wife ran up to the couple right at the kiss in front of them to film them close up more images that are the most amazing moments gone forever. The couple also had a fireworks show at that moment and because the video guy was in front of the couple we we yelling at him to move and missed the fireworks shot. Instead a fight nearly broke out to get him off the stage so we could get this moment as we should have been able to see and for all the 500 guests to be able to share in! One of the video kids even almost slipped on the isle of the ceremony. He was really close because he was running back and forth. It was ridiculous. I have never seen such an act of stupidity. Another videographer ran across the stage when the breaking of the glass was happening and he nearly slipped on the walkway from the dew from the water. It really took away from the moment with the Bride and Groom. Everyone was of course hoping the man did not fall but he was really close!!!
It is my most favorite moment ~ the moment of union and gone forever. I was livid. I had missed my favorite moment and the Bride and Groom also missed that moment. Upsetting to say the least.
I had called this company to talk with the owner to say hello and introduce myself a week before the wedding since we had never worked together. I emailed first off the website but that email did not work...OOpppsss not a good sign. I then used their form to ask them to call me. No call of course. On the day of the wedding I politely introduced myself to the 4 boys that came to film in the Bride's room. Really 4 videographers in a hotel room? They were full of themselves with an attitude of whatever. We are photography and we have priority in my book. It was telling. I had a day filled with 4 boys ruinng countless shots while shooting what we set up. I have posted a few of the images so that all Couples can see that this is more of a problem than ever and that the images are even more important than the video. I can be edited out BUT a video camera can not be taken out of a photo and an amazing moment. Video kids and they are kids have an attitude. They think they are making a feature film and that photography is not important. This is not true. We are the masters and we provide the images that go on the wall forever. A video. You look at it once a year BUT the photos are there everyday forever. Please read this and learn from it. It is getting worse. The team I found out as well ahad never done a wedding before and that they had never worked together before. They were inexperieinced people taking over a day that is only once in a lifetime. Know who u invite into your world. Be clear about it. Do not miss the images that you paid for.
Some images so you can see lost opportunites.....That really needed to be recorded!!! As you can see a ridiculous photo and situation. There were many times I could NOT shoot what I wanted....OR the video people jumped into my frame over and over again and a fabulous photo was lost.....
I want you to know that I wrote this article to try to help Couples make good choices and what they need to look for. I am not writing to badmouth anyone not my style BUT when things happen to get into my way of taking the images that I was hired to do and losing amazing shots I get mad especially when the one causing me this misfortune is unprofessional and oblivious to the needs of the Bride and the Groom that hired them!!!